Line Sketchbook Assignment Pinterest
Yosida
/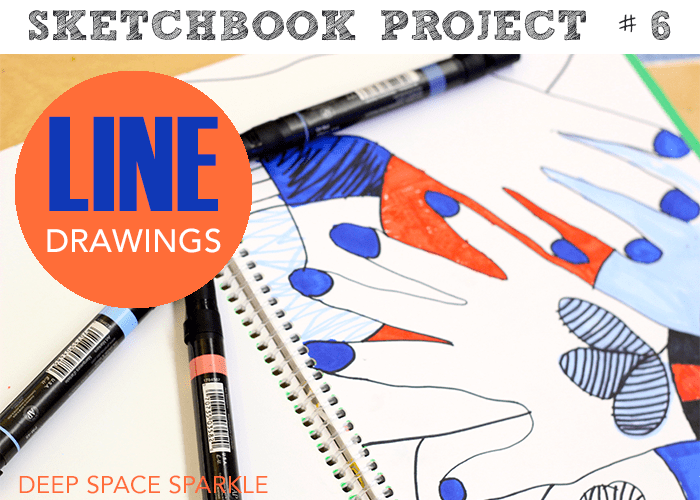 The Sketchbook Project is a record of how my sixth grade students used sketchbooks during their art class to record art information and create projects. Learn how I used sketchbooks instead of individual sheets of paper to teach art & creativity.
Week One: The Beginning
Week Two: Creating Value
Week Three: Atmospheric Perspective
Week Four: Tree Line Drawings
Week Five: Sonia Delaunay Abstract Art
Week Six: Portrait Journalling
---
Before I get into the project, this is a good time to point out the importance of creating a project calendar. There will be some projects you teach that will consume a lot of time both in demonstrating the lesson and the actual art-making process. Try to balance simple projects with the multi-step projects (like last week's portrait journalling). You all know that some kids will finish a project in the time allotted while others won't. Easier projects like this one, offers kids a chance to catch up.
All this project requires is the sketch pad, some markers and colored pencils. That's it!
You'll need to find two or three simple, graphic drawings for the kids to use as drawing prompts. I took an old zentangle hand project I did many moons ago plus this giraffe I found through Pinterest. The kids loved these images and dove into the project.
PATTERN IDEA DOWNLOADS
You'll want to demonstrate some lines and pattern ideas for the kids on the white board, just to get their drawings started, or you can download a few free patterns from sources on the internet.
DRAWING INSTRUCTIONS
I  didn't go into very much detail with drawing instructions. These are 6th grade kids who pretty much know what they want to do and how they want to proceed.
If you have never down the hand drawing before, it's super easy. Kids place their non-dominant hand on the paper and trace around the hand with a marker. Then, draw a rainbow/echo line around the hand contour. I find that this border separates the hand from the pattern detailing that will come later.
After the hand or the giraffe's head/neck are drawn, the kids use their imaginations and creativities to draw shapes, lines and patterns. The only rule is to NOT draw a scenic background.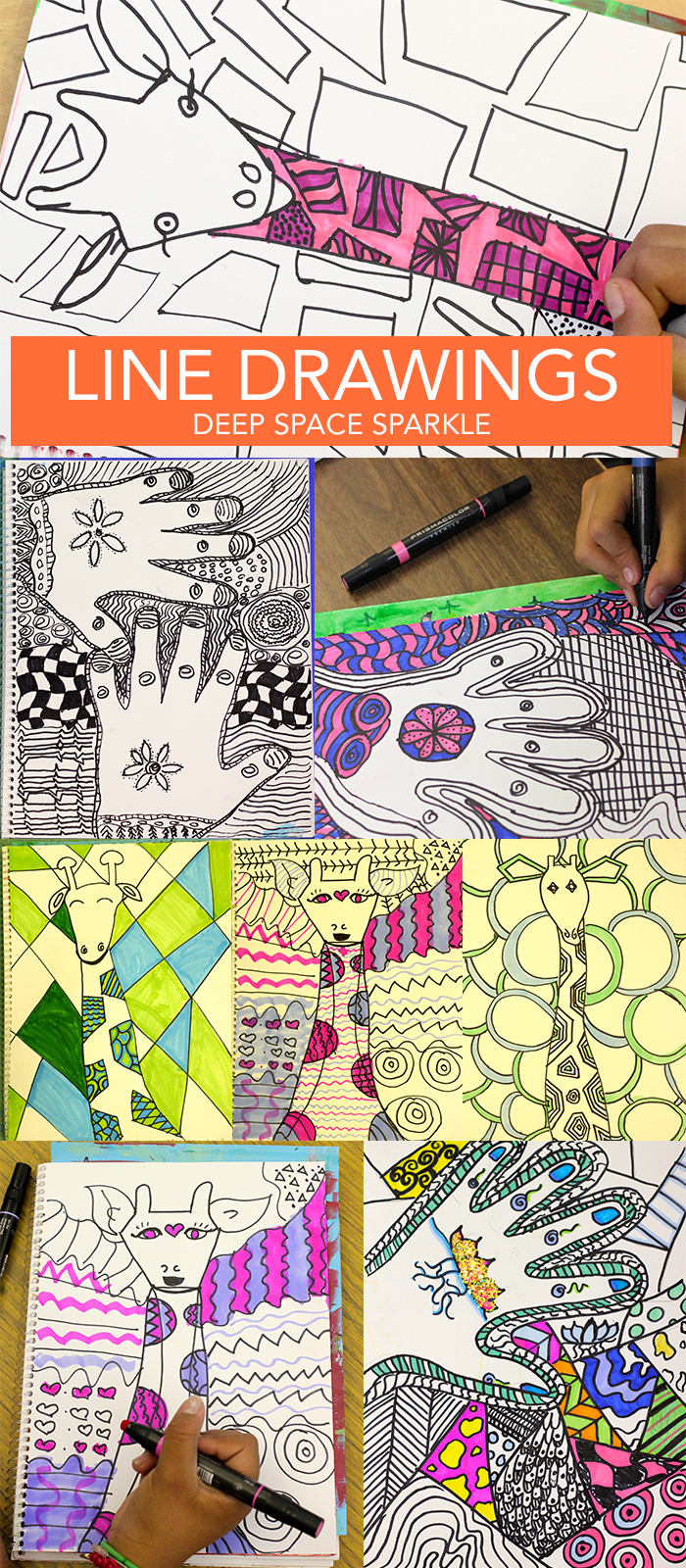 COLORING
I must admit that last year I was able to splurge on purchasing six, 24-marker sets from Prismacolor for my art room. We had a few disappointing duds (meaning they were dry) but the kids loved using them.
If you aren't using a sketchbook and want to try this project, I would recommend using white cardstock. Here's a video where I show you why I like cardstock when using markers.
Note: Because the Sketchbook Project is designed to be open-choice, some of the early finishers took to opening the art cupboard and embellishing their patterns. See the picture above in the bottom right hand corner? This girl used glitter and glue to embellish a small portion of her drawing. I must admit, I love her initiative!
Missed the last installments of the Sketchbook project?
Intro:  The Sketchbook Project: The Beginning 
Week #1: The Sketchbook Project: Creating Value + Free Worksheet
Week # 2 The Sketchbook Project: Atmospheric Perspective (Landscapes)
Week #3 The Sketchbook Project: Tree Line Drawings
Week #4 The Sketchbook Project: Sonia Delaunay Circles
Week #5 Expressive Self-Portraits
---

Make sure to sign up for the free Deep Space Sparkle weekly newsletter to receive updates on new projects, handouts and announcements when new episodes of my podcast Art Made Easy are published.

If you're anything like me, you can never get enough good sketchbook ideas. I'm always looking for ways to engage students so that they truly want to work in their sketchbooks. Whether you use sketchbooks for project planning, skill development, brainstorming, or something else, you'll find ideas here that will work for you. My sketchbook assignments and prompts take an "all of the above" approach, making the following list well-rounded.
The list covers many bases and is organized by category. There are prompts about animals, food, people, and other things that will spark interest among students. This list is geared toward secondary students, but you'll find a lot here that will work for younger students as well. Take a look and see what will work best for you and your students. Add your own favorite sketchbook assignment in the comments below!
Click here to download the list!
Download Now
100 Sketchbook Prompts Your Students Will Love
People
Draw someone you sit by in an odd pose.
Draw family members with things that are important to them.
Draw yourself (or someone else) painting toenails.
Find a quiet place in a crowd. Draw the crowd.
Draw a relative by the light cast from a TV/Phone/Computer or other screen.
Make a portrait of yourself in twenty years. Or in fifty years. Or both.
Draw a masked man (or woman) that is not a superhero.
Draw the ugliest baby you can imagine.
Draw two sports figures–one in a dynamic pose, one in a static pose.
Draw two self-portraits with odd expressions.
Draw something or someone you love.
Draw hair. A lot of it.
Take a picture of someone near you on a bus or in a car. Draw them.
Animals
Draw an animal eating another animal.
Draw your art teacher in a fight with an animal.
Draw an animal playing a musical instrument.
There is an animal living in one of your appliances. Draw it.
Draw a dead bird in a beautiful landscape.
Draw something from a pet's point of view.
Draw an animal taking a bath.
Draw an animal taking a human for a walk.
Combine 3 existing animals to create a completely new creature.
Draw a family portrait. Plot twist: It is a family of insects or animals.
Draw an animal playing a musical instrument.
Draw the most terrifying animal you can imagine. Or the most adorable.
Food
Draw a pile of dishes before they get washed.
Tighten a C-Clamp on a banana. Draw it.
Draw a slice of the best pizza you have ever seen.
Draw junk food and the wrapper.
Draw your favorite food.
Create your own restaurant. Draw the restaurant, your executive chef, and a 12-item menu.
Draw the ingredients or process of your favorite recipe.
Draw salt and pepper shakers.
Draw fresh fruit or vegetables, or something fresh from the oven.
Draw a salad.
Draw the oldest thing in your refrigerator.
Draw a piece of fruit every day until it becomes rotten.
Draw everything on a restaurant table.
Objects
Draw what is in the rearview mirror of the car.
Draw moving water. Draw still water.
Draw an object floating.
Make a drawing of all of your drawing materials.
Find a trash can. Draw its contents.
Draw tools that belong to a certain profession.
Draw three objects and their environments. One of the three should be in motion.
Draw the interior of a mechanical object. Zoom in, focus on details and shading.
Create three drawings of messes you have made.
Draw five objects with interesting textures: wood grain, floors, tiles, walls, fabric, etc.
Draw a collection of purses, wallets, or bags.
Draw your favorite well-loved object or childhood toy.
Draw a watch or another piece of jewelry.
Draw something hideous that you keep for sentimental reasons.
Draw something with a mirror image.
Technical Skill/Skill Development
Draw all the contents of your junk drawer with one continuous line.
Make a detailed drawing of a rock.
Draw a dark object in a light environment.
Draw a light object in a dark environment.
Make a detailed drawing of five square inches of grass.
Draw a transparent object.
Draw a translucent object.
Do several studies of eyes, noses, and mouths in a variety of poses.
Draw an interesting object from three different angles.
Value Studies–Draw three eggs and part of the carton with a strong light source.
Draw three metallic objects that reflect light. Focus on highlights and reflections.
Refraction–Create two drawings of separate objects partially submerged in water.
Make three drawings (your choice of subject) using materials with which you are not familiar.
Draw a piece of patterned fabric with folds.
Draw a bridge and all of its details.
Creativity/Originality
Draw yourself as an original superhero.
Make a drawing that looks sticky.
Draw a mysterious doorway or staircase.
Draw an empty room. Make it interesting.
Draw a flower. Make it dangerous.
Draw an object melting.
Draw an imaginary place, adding all kinds of details.
Draw a gumball machine that dispenses anything but gumballs.
Danger! Draw yourself in a dangerous situation.
You are on the back of the bus. Figure out who is with you, where you are going, and why. Illustrate and explain.
Draw what's under your bed (real or imagined).
Draw the most incredible game of hide-and-seek you can imagine.
Create a new sport. You can improve an existing sport, combine two existing sports, or come up with something completely new.
Open-Ended Themes
Make a drawing that is totally truthful.
Make a drawing that lies all over the place.
Make a drawing that is completely and utterly impossible.
Story Illustration: Fix a story that you don't like, or reflect/improve upon one you do.
Let someone else choose your subject and tell you what to draw.
Draw your greatest fear.
Use song lyrics, quotes, or poetry to inspire a drawing.
Find the three most useless objects you can and draw them.
Draw an interesting form of transportation.
Draw something for which you are thankful.
Go somewhere new and draw what you see.
Draw something that can't be turned off.
Draw something soothing.
Draw something you think sounds or smells incredible.
Draw something that needs fixing.
Draw something you've always wanted.
Draw something out of place.
Draw something that should have been invented by now.
Draw something you keep putting off, or something that causes you to procrastinate.
Does this list inspire you to take some sketchbook assignments head on in your art room? Or maybe the opposite is true and you are finding that you feel underprepared to teach drawing skills. Maybe you fall somewhere in between and you just need a little more inspiration to tweak your drawing curriculum. These are all great reasons to take a peek at AOE's Studio: Drawing Course. The class is jam-packed with hands-on learning experiences, advanced technique tutorials, and opportunities to share and learn with art teachers just like you.
What are your favorite sketchbook prompts to use?
How do you use sketchbooks in your classroom?