Horizon View Licensing Comparison Essay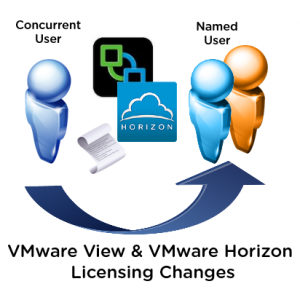 A few points of clarification after the good Twitter discussion I just had with Dan Fallon, Jim Millard, and Matt Davis in response to my posting of the new VMware Horizon View and VMware Horizon Workspace / Suite licensing.  In the details on licensing for the new products (full details are on the Clearpath blog), I mentioned that Horizon View licensing changes to per named user from the previous per concurrent user licensing when you upgrade to the new Horizon Suite (a combination of Horizon View, Horizon Mirage, and Horizon Workspace) from View Premier bundle licensing.  A few things to keep in mind about this:
When you purchase this upgrade (50% off promotion starting this week btw), your View Premier bundle licensing is exchanged for Horizon Suite licensing and your View Premier per concurrent user licensing is exchanged for per named user licenses.
When you upgrade from View Premier bundle licensing to Horizon Suite, you get two named users of Horizon Suite for every one concurrent license of View Premier exchanged.  The 2fer can work out in favor of many View customers.
Mirage was per-named-user before VMware acquired Wanova.  Horizon Application Manager (the predecessor to Horizon Workspace) was also per named user.  This swap brings View in line with licensing terms of the other end user computing offerings in the suite when licensed as part of the Horizon Suite.
If you want to keep using View Premier only and not upgrade to the Horizon Suite licensing, you can keep using the per concurrent user licensing.  You are not being forced to change licensing terms like Citrix did to XenDesktop customers a few years back.
Details of the licensing changes can be found in this VMware Horizon Licensing and Upgrading Whitepaper: http://www.vmware.com/files/pdf/view/VMware-View-Pricing-Licensing-and-Upgrading-white-paper.pdf.  This whitepaper also covers the announced End of Availability for View Enterprise edition, Horizon Application Manager, and ThinApp.  I have more info on the ThinApp EOA here: http://vmtoday.com/2013/02/the-reports-of-my-death-have-been-greatly-exaggerated-vmware-thinapp/.
Like this:
Imagine a virtual desktop user reports a performance issue, you open the admin console and all information that is provided is that the user has a session and when it was started.
Imagine it is Monday morning and no users can connect to their virtual desktops or apps, but you don't know about it (until a bunch of angry users storm into your office and shout at you).
Imagine you would like to add more users to your environment and the network admin asks you about how much bandwidth this will require, but you have no idea.
Sounds like a management nightmare, doesn't it?
If you're unfortunately stuck with the VMware's Horizon View then this is your scary day-to-day reality.
In fairness with View 5.3 you could spend another 75USD per user to buy vCOPS in order to get some of the information or you could buy some 3rd party software which does the job for a similar price. And if you are planning to deploy View 6 then your only choice will be the most expensive version (Horizon Enterprise) as only this version includes vCOPs. So your choice with View is either really high cost or no visibility.
The good news is that when you are a XenDesktop or XenApp customer this scenario is a breeze. Because Citrix Director does provide all of this  information in a way you need it and just when you need it. And even better, you get this for free, with any version of XenDesktop or XenApp*.
In order to prove that this is not just marketing fluff, we recorded a short video comparing the out-of-the-box management tools of XenDesktop and View.
The features of Director go even beyond what has been showcased within the video. For example monitoring the logon duration of the users and providing detailed insight into which part of the logon process takes the most time, is very powerful. This also enables the admin to improve the user experience pro-actively. Another awesome feature is the correlation of management activities (e.g. changing a Citrix policy or enabling the maintenance mode for a desktop group) with the errors occurred in the environment. This way it is easy to determine if a specific admin task has a positive or maybe even negative effect.
But there is even more than what's exposed in the Director UI. Director and the VDAs track a myriad of data points, which are stored in the XenDesktop Monitoring database. This data can be accessed by means of the OData API, which is discussed in eDocs – Use the Monitor Service OData API and in Citrix Blogs – Creating Director Custom reports for Monitoring XenDesktop.
All of this goes far beyond what VMware (Horizon) View provides you out-of-the-box. That's another reason why XenDesktop and XenApp are the leading desktop virtualization products.
*Please note that the Director feature, network analysis provided by HDX Insight, requires XD/XA Platinum edition.  Director as a troubleshooting tool is free with all editions.
-Thomas
Follow me on Twitter @tberger80.
Thomas Berger
Thomas is a Senior Architect within the XenDesktop Product Marketing Team based out of Zurich, Switzerland. He started working in IT in 1999 as system admin and freelancing consultant. In 2004 he joined Citrix as Consultant within the EMEA Consulting organization, where he worked at numerous customer projects by assessing, designing and building enterprise-level architectures to successfully deliver desktops and applications using Citrix technologies. In 2011 he moved to Worldwide Consulting Solutions in order to focus on white paper and best practice development. In late 2013 he moved to Product Marketing in a technical capacity, now focusing on CI.
Follow me on Twitter @tberger80.